Some of the Books You'll Find at Your Fair!
As one of the largest publisher of children's books, Scholastic's expertise comes with your Book Fair. In a selection from over 100 titles, kids discover books for their interests and reading level. These are some of our favourites that are sure to inspire a love of reading. Click a title to read more about the book.
Want a full sneak peek? See our junior and senior highlights flyers to preview what's coming to your Fair.

Highlighted Titles
Picture Book
Grades K – 2
Eyes That Speak to the Stars
Written by
Joanna Ho
Illustrated by
Dung Ho
A young boy comes to recognize his own power and ability to change the future. When a friend at school creates a hurtful drawing, the boy turns to his family for comfort. He realizes that his eyes rise to the skies and speak to the stars, shine like sunlit rays, and glimpse trails of light from those who came before—in fact, his eyes are like his father's, his agong's, and his little brother's, and they are visionary.
Inspired by the men in his family, he recognizes his own power and strength from within. This extraordinary picture book redefines what it means to be truly you.
This companion to the bestselling title Eyes That Kiss in the Corners is sure to be welcomed as a breathtaking, lyrical, and poignant story.
Picture Book
Grades K – 2
Smile So Big
Written by
Sunshine Quem Tenasco
Illustrated by
Chief Lady Bird
A magical mirror helps a young girl understand her true beauty in this new picture book from the creators of Nibi's Water Song.
When Challa comes home in tears after being teased about her smile, her mom gives her a special gift. It's a magic mirror — shiny, beaded, and beautiful — passed on from her mom, and from her djo djo before her.
Challa's mom tells her that when anyone looks into the mirror, they will see their true self. There's just one rule: Everyone has to say what they see in the reflection.
At first the mirror seems to work for everyone but her. Challa keeps looking and looking. The more beauty she sees in herself, the happier she feels, and the longer she looks into the mirror, the more beauty she sees, until finally Challa sees so much beauty, she can't contain her smile!
This special story, from award-winning activist Sunshine Quem Tenasco and artist Chief Lady Bird, introduces readers to concepts of self-acceptance, self-empowerment, and recognition of the unique beauty that comes from within.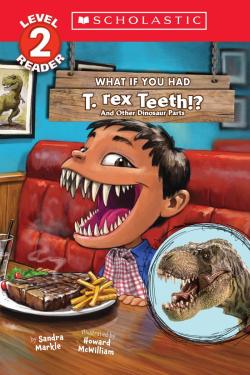 Reader
Grades K – 3
What If You Had T.rex Teeth!? And Other Dinosaur Parts
Written by
Sandra Markle
Illustrated by
Howard McWilliam
What if you woke up one morning and you had sprouted a dinosaur body part overnight?
From a Velociraptor's sharp sickle-tipped toes to a T. rex's giant curved teeth, and from the body armour of an Ankylosaurus to the long neck of a Brachiosaurus – discover what it would be like if you had one of these wild dinosaur parts! Readers will also learn what makes a dinosaur a dinosaur and why they aren't still around today.
Sandra Markle's bestselling What If You Had… series is now a Level 2 reader! Perfect for kids just learning to read independently, this imaginative book explores what would happen if you looked in the mirror and saw a dinosaur body part instead of your own!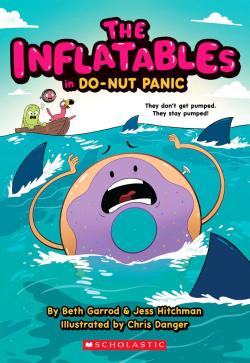 Graphic Novel
Grades 2 – 6
The Inflatables #3: The Inflatables in Do-Nut Panic
Written by
Beth Garrod & Jess Hitchman
Illustrated by
Chris Danger
Bouncy BFFs Cactus, Flamingo, Donut, and Watermelon are ready for a fresh wave of drama in this hilariously action-packed graphic novel series that's perfect for fans of Dog Man and The Bad Guys!
Holey sprinkles! Donut's going on a treasure hunt. The prize? The most delicious cookie ever tasted. But to find it, he will need to sneak his inflata-pals out of the water park, survive shark-infested seas, and take on a petrifying Pickle. Will the holey hero make it back unpopped, or will the cookie crumble once and for all?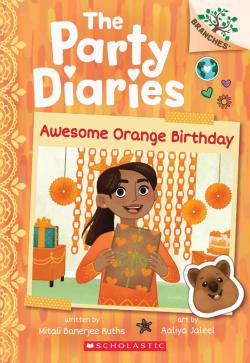 Chapter Book
Grades 1 – 3
The Party Diaries #1: Awesome Orange Birthday
Written by
Mitall Banerjee Ruths
Illustrated by
Aaliya Jaleel
In this full-colour early chapter book series, Priya starts a party-planning business to help save the planet – one party at a time!
Priya is excited to plan her aunty's birthday party. She will donate the money she makes to help the cutest endangered animal on the planet, the quokka! But the party is this Saturday! With so many items on her to-do list, can she get it all done in time? Priya sends out handmade invitations, makes DIY decorations, and sets an orange-only snacks menu – including pumpkin samosas! Will Priya's very first party be a success?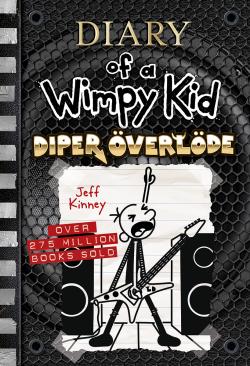 Illustrated Novel
Grades 4 – 6
Diary of a Wimpy Kid #17: Diper Överlöde
Written and Illustrated by
Jeff Kinney
In Diper Överlöde, book 17 of the Diary of a Wimpy Kid series from #1 international bestselling author Jeff Kinney, Greg Heffley is finding out that the road to fame and glory comes with some hard knocks.
When Greg decides to tag along with his brother Rodrick's band, Löded Diper, he doesn't realize what he's getting into. But he soon learns that late nights, unpaid gigs, fighting between band members, and money troubles are all part of the rock 'n' roll lifestyle.
Can Greg help Löded Diper become the legends they think they are? Or will too much time with Rodrick's band be a diper överlöde?
Graphic Novel
Grades 4 & Up
Squished
Written by
Megan Wagner Lloyd
Illustrated by
Michelle Mee Nutter
From the powerhouse duo behind the instant bestseller Allergic comes a spirited new graphic novel about finding your own space… especially when you're in a family of nine!
Eleven-year-old Avery Lee loves living in Hickory Valley, Maryland. She loves her neighbourhood, school, and the end-of-summer fair she always goes to with her two best friends. But she's tired of feeling squished by her six siblings! They're noisy and chaotic and the younger kids love her a little too much. All Avery wants is her own room – her own space to be alone and make art. So she's furious when Theo, her grumpy older brother, gets his own room instead, and her wild baby brother, Max, moves into the room she already shares with her clinging sister, Pearl! Avery hatches a plan to finally get her own room, all while trying to get Max to sleep at night, navigating changes in her friendships, and working on an art entry for the fair. And when Avery finds out that her family might move across the country, things get even more complicated.
Megan Wagner Lloyd and Michelle Mee Nutter have once again teamed up to tell a funny, heartfelt, and charming story of family, friendship, and growing up.
Nonfiction
Grades 7 & Up
A Rebel in Auschwitz
Written by
Jack Fairweather
With exclusive access to previously hidden diaries, family and camp survivor accounts, and recently declassified files, critically acclaimed and award-winning journalist Jack Fairweather brilliantly portrays the remarkable man who volunteered to face the unknown in the name of truth and country. This extraordinary and eye-opening account of the Holocaust invites us all to bear witness.
Occupied Warsaw, Summer 1940:
Witold Pilecki, a Polish underground operative, accepted a mission to uncover the fate of thousands interned at a new concentration camp, report on Nazi crimes, raise a secret army, and stage an uprising. The name of the camp – Auschwitz.
Over the next two and half years, and under the cruelest of conditions, Pilecki's underground sabotaged facilities, assassinated Nazi officers, and gathered evidence of terrifying abuse and mass murder. But as he pieced together the horrifying Nazi plans to exterminate Europe's Jews, Pilecki realized he would have to risk his men, his life, and his family to warn the West before all was lost. To do so meant attempting the impossible – but first he would have to escape from Auschwitz itself.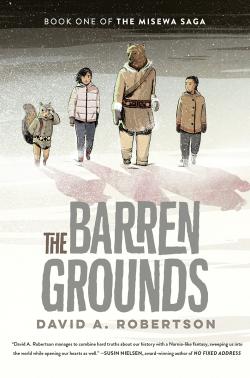 Novel
Grades 7 – 12
The Barren Grounds: Book One of the Misewa Saga
Written by
David A. Robertson
Narnia meets traditional Indigenous stories of the sky and constellations in an epic middle-grade fantasy series from award-winning author David Robertson.
Morgan and Eli, two Indigenous children forced away from their families and communities, are brought together in a foster home in Winnipeg, Manitoba. They each feel disconnected, from their culture and each other, and struggle to fit in at school and at their new home — until they find a secret place, walled off in an unfinished attic bedroom. A portal opens to another reality, Askí, bringing them onto frozen, barren grounds, where they meet Ochek (Fisher). The only hunter supporting his starving community, Misewa, Ochek welcomes the human children, teaching them traditional ways to survive. But as the need for food becomes desperate, they embark on a dangerous mission. Accompanied by Arik, a sassy Squirrel they catch stealing from the trapline, they try to save Misewa before the icy grip of winter freezes everything — including them.
Graphic Novel
Grades 3 – 6
Frizzy
Written by
Claribel A. Ortega
Illustrated by
Rose Bousamra
A graphic novel about Marlene, a young girl who stops straightening her hair and embraces her natural curls.
Marlene loves three things: books, her cool Tía Ruby, and hanging out with her best friend Camila. But according to her mother, Paola, the only thing she needs to focus on is school and "growing up." That means straightening her hair every weekend so she could have "presentable," "good hair."
But Marlene hates being in the salon and doesn't understand why her curls are not considered pretty by those around her. With a few hiccups, a dash of embarrassment, and the much-needed help of Camila and Tia Ruby — she slowly starts a journey to learn to appreciate and proudly wear her curly hair.